9100 Encoder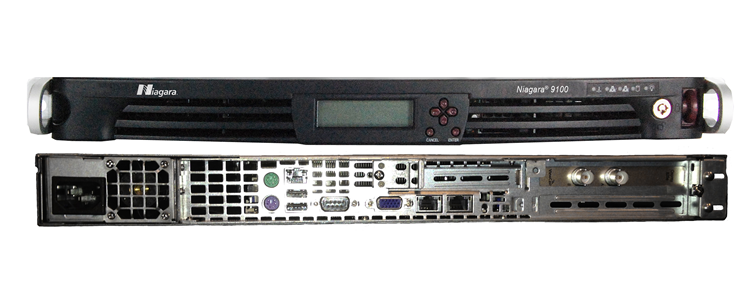 Niagara's 9100 series encoders support SDI and analog source inputs with cost effective density.  The versatility of inputs present in the 9100 series is hard to beat especially if you need older types of protocols such as Windows Media.
9100  Series  Encoders Highlights include
Rack Mount Design
Analog inputs – 4 or 8
Digital inputs – 2 or 4 SDI Inputs
MPEG-2, MPEG-4, AVC, H.264 codec support
Multiple Outputs; Transport Stream (UDP/RTP), Adobe Flash (RTMP), Windows Media and Apple's HLS protocol
9100 is an economical choice for live capture, encoding and streaming for professional-grade digital video and audio delivery… all in a dense form factor.
The 9100 digital (SDI) models data sheet is downloaded here.
The 9100 analog models data sheet is downloaded here.
For two decades Niagara products have stood for quality and reliability.  Many of the world's largest and most respected broadcasters, network solutions providers, and content delivery networks rely on Niagara Video products every day to deliver high-quality audio and video streams to millions of viewers all around the world.