GoStream 2200 Series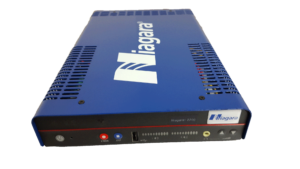 The GoStream 2200 series has been one of our Niagara Video "go to" encoders for years … they keep on ticking.  The GoStream 2200 series encoders are robust, portable and durable.  GoStream 2200 encoders are suitable for a variety of Corporate, Government, Educational and House of Worship applications.
Niagara 2200 offers non compromised quality and simple of operations in a compact, low-cost encoder.

 

At the size of a half rack, the system supports a wide number of encoding formats for a variety of applications.

 

Ease of use is a hallmark of the Niagara 2200 and it allows even non-technical personnel to stream high-quality live video. 2200's built-in web interface simplifies system setup and operation, allowing complete system control from anywhere on the network.
GoStream 2200 Encoder Highlights
Lightweight, easily portable
Half rack unit size
Flash, Windows Media, MPEG-2 and MPEG-4 support
Component, S-Video, Composite video inputs
For the GoStream 2200 Date Sheet please click here
For two decades Niagara products have stood for quality and reliability.  Many of the world's largest and most respected broadcasters, network solutions providers, and content delivery networks rely on Niagara Video products every day to deliver high-quality audio and video streams to millions of viewers all around the world.